THE 2017 EXHIBITION

To create an exhibition, beautiful images that catch the eye and convey a clear message are essential, but great taglines are what unlock the potential of the campaign in becoming a real actor. In a world that is heading towards complete digitalization, it is becoming more and more difficult to find beautiful print campaigns. Indeed, we received many case studies about events or experiments that help change and mold our perspective of the world.
FEARLESS GIRL
One campaign comes to mind when thinking about this kind of campaign: McCann New York's campaign "Fearless Girl". The statue was installed on March 7th2017, one day before International Women's Day. State Street Global Advisors used her to launch their campaign encouraging companies in which they invested, to increase the number of women in their administrative boards. For many people, this statue is now a banner for women's rights.
Credits : McCann New York, USA for State Street Global Advisors – GCC: Rob Reilly   CCO, NA: Eric Silver – Co-CCO, NY : Tom Murphy & Sean Bryan – AD: Lizzie Wilson   CW: Tali Gumbiner – Sculpture by Kristen Visbal
OPEN YOUR EYES
The "Declaration of Human Rights" exists since 1789 and while it is true that the world has changed, it is evident that the values portrayed in this document are still valid. We, as citizens, must remain vigilant, expose injustices, support associations that are working in the field, push our governments to act…! We must keep our eyes open, as the powerful campaign from Grey Dusseldorf, "Open your eyes for Land of Women" reminds us.
Credits: Grey Dusseldorf, Germany for Terre des Femmes – ECD: Alexandros Antoniadis, Martin Venn – CCO: Fabian Kirner – AD: Markus Werner – CR: Thomas Kuhn – CMO: Michael Rewald – Photo: Hajo Müller
#IAMMUSLIM &  BLOOD EQUALITY
Regardless of our age, our origins, or our religion, it is important that we respect each other's freedom, and the differences in thinking, acting, and opinions. This common characteristic also developed on daily basis, can be more complicated to implement. To be for peace, against war and racism, is not difficult. However, respecting the Other and his/her values and beliefs, as well as understanding and including him/her in our society, is not always as simple. In the exhibition, two campaigns stand out on this theme: an amazing print campaign made by the South African agency VML South Africa: "#IAmMuslim" as well as FCB Health's "Blood Equality Campaign".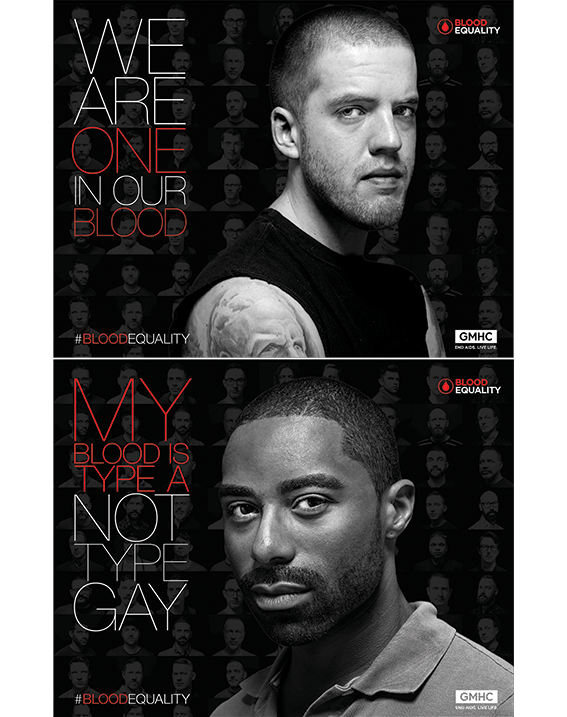 Agency: FCB HEALTH, USA – Advertiser: Gay Men's Health Crisis (GMHC)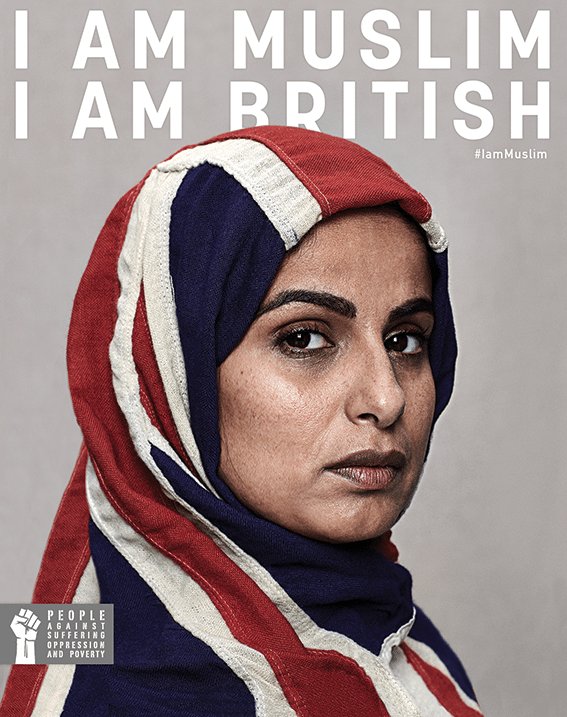 Agency: VML South Africa – Advertiser: PASSOP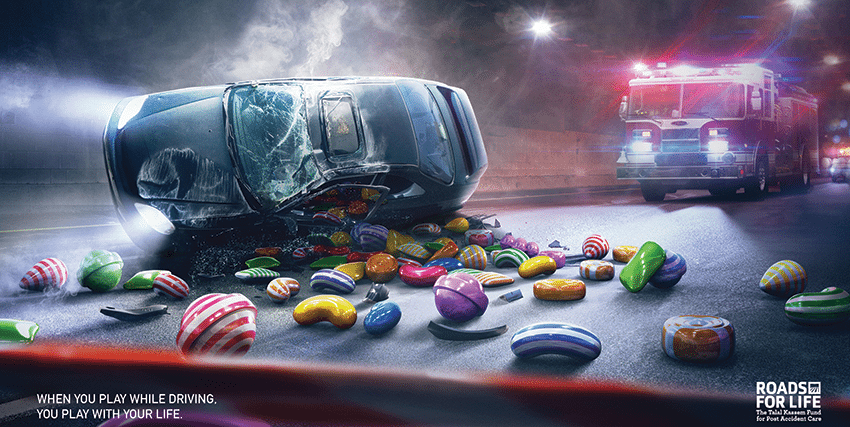 ROADS FOR LIFE
Each of our actions has an impact on others, and we are accountable for all of them. For three years now, road safety has been of particular interest to advertisers around the world, who are creating effective and moving campaigns. This year two campaigns caught our attention, the powerful spot "Shockwaves" by La Chose and the one shown here, a clever print campaign about the use of smartphones while driving by JWT Qatar called "Roads for Life" using an icone game we all played once!
Credits : Agency: J. Walter Thompson, Qatar – Advertiser: Roads For Life – Regional ECD: Nicolas Geahchan  –  CD: Joao Troncao – Senior AD: Gonzalo Ausejo  –  Senior English CR: Raja Kanafani
US MEALS ON WHEELS
In solidarity the subjects that are explored in this year's exhibition include the constant fight against poverty, hunger and/or isolation with the innovative idea of Anomaly – New York, "United States Meals on Wheel".
1 FOR 7
Organ donation is also prominent theme this year, possibly because although transplants are on the increase around the world, they are still far from being enough, as DDB Group Hong Kong creatively expressed in the "1 FOR 7" campaign made for the Hong Kong Transplant Sports Association.
Credits : Agency: DDB Group Hong Kong – Advertiser: Hong Kong Transplant Sports Association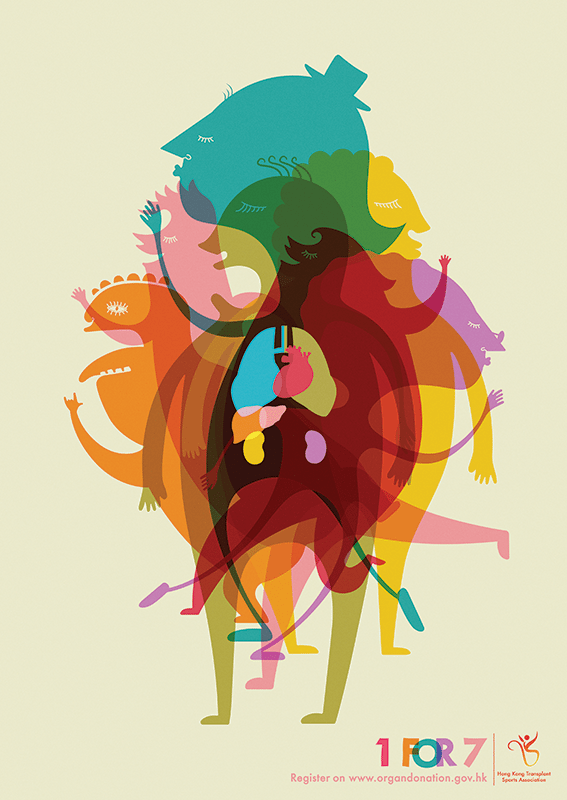 DIRTY WATERCOLOR
Finally, evidently the environment is present, however unlike previous years, campaigns revolve more around pollution rather than global warming, as showed the ingenious idea developed by TBWA\Santiago Mangada Puno's in a campaign against water pollution, which was able to gather different actors around this central issue.
Credits – Agency: TBWA\Santiago Mangada Puno, Philippines – Advertiser: ABS CBN Lingkod Kapamilya Foundation Inc. – ECD: Melvin M. Mangada – CD/CR: Bryan S. Siy – AD: John Ed de Vera, Nikko Pascua – Accounts: Portia Catuira, Marishka David